The CrowdCast.io system lets your participants ask questions as soon as you have posted your event on their platform.
Not only that, but they also have the opportunity to upvote and comment on any question that has been posted already!
That allows for a much more dynamic engagement even before your event starts.
Join us for the first-ever Avantra Summit happening on the 3rd of December 8am PST to experience that dynamic firsthand. I have the honor to be the MC leading through the program.
As that concept of asking questions in advance is new, we posted a couple of questions, as well as comments already.
It makes an event so much more interesting if you know at least some of the questions that are going to be tackled. Even more so, if you can add your own question to the mix. It really makes you lean in when you vote and wonder which of the questions are going to be on top to be answered first.
In addition, CrowdCast creates a unique URL whenever you tackle one of their questions during your session. When replaying a session it allows you to quickly jump to the spot in the recording where you have answered a specific question.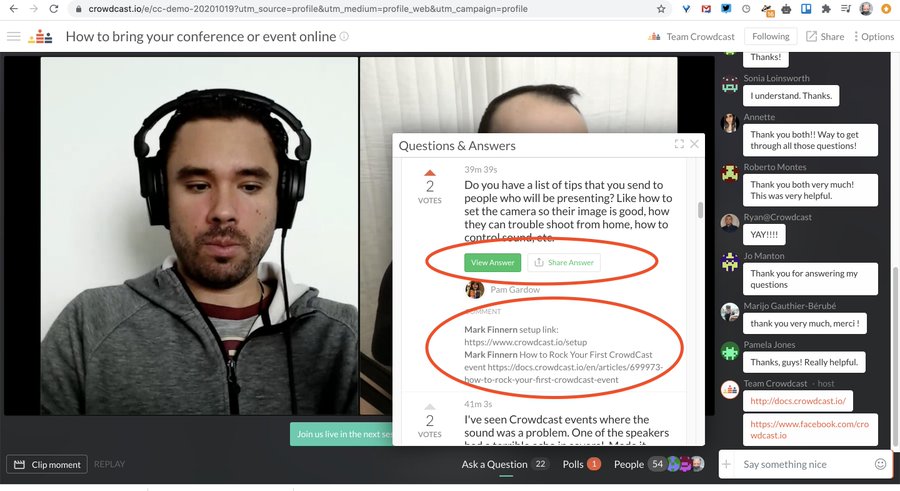 Not only that, but there is another nifty feature in CrowdCast.io: everyone can comment on a question, even after you have ended your session.
I watched the answer to the "what to send to presenters" question in the above recording. They recommend two documents in their answer and I found them and posted the links in a comment to that question.
You never need to worry, that you don't get to all the questions during your online event. As you can always answer them after the recording stopped. Do it in a timely fashion. How cool is it to post this in your follow-up email: "There were still some open questions at the end of the event. We are proud to let you know that we answered every single of these with a comment. Check it out here <link>".
Your panels will be so much more dynamic if you post all the questions that you are going to ask your panelists in the Q&A section in advance. All of your event participants can influence which questions you ask first by voting up their favorite ones. They can add their own questions which may bubble to the top before some of yours. It is making the whole event much more interesting for everyone involved.
Now if the participants do their part lean in and participate, then these online events will be a treat for everyone involved :-)